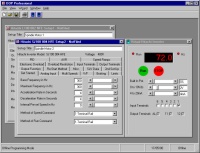 DOP Professional for Hitachi inverters is the latest addition to the Drive Manager suite of Software.

It is both an offline programming tool and online monitoring tool suitable for the Hitachi L100, SJ100, L300P and SJ300 Inverters.

All the screens have been arranged to provide users with the interactivity of the Windows environment by using the standard command buttons, option buttons and combo boxes.

All parameters are text descriptive so there is no need to know the parameter codes of the Hitachi Inverter. A comprehensive help file is included to explain every parameter in even more detail.

The main features of DOP Professional are;


Save & Load Inverter Set-up to disk.
Easily cross-referenced to in-built programming codes.
Complete print out grouped for easy parameter search.
Multi-Lingual Compatibility.
Global product suitable for European, USA and Japanese series Hitachi Inverters.
In-Built 'Virtual Inverter' to fully simulate how the set-up will operate.
Application orientated Set-up Wizards.
Auto-Tune Wizard.
Highlight from Factory Default.
Compare two files and report Differences.
Launch DOP Plus, Trend Analysis and SRW Simulator.
Import DOP Plus and SRW Simulator Files.
The software runs on any IBM-compatible PC with Windows 95, 98, NT or 2000.

Request Additional Information

Download The Latest Version

Return to Products Menu